Cannabis has suffered a bad reputation for a long while. In fact, it was until the healing properties of this plant became popular that our views concerning it changed. CBD is one of the key cannabinoids responsible for this shift in public view.
This cannabidiol is responsible for most cannabis-based treatment/solutions. From anxiety to pain, and seizures, it is utilized in so many ways. But what's interesting is that it's not just for humans, even pets can benefit from it.
As time went by, it was only natural we sought to extend this healing benefit to our beloved pets. CBD for pets is still a fairly new concept and there isn't a lot of research backing it. What we do know is our pets experience relief from several health conditions they suffer from when they take it.
What is CBD?
A cannabis plant has hundreds of cannabinoids within. But we get the most from two main ingredients. This is delta-9-tetrahydrocannabinol (THC) and Cannabidiol (CBD). When you say you got high from ingesting weed, THC is the substance responsible. Click here to learn more about cannabinoids.
While THC can get you high, CBD is a non-psychoactive cannabinoid. What this means is no matter the quantity ingested, you can't get high from it. This property makes cannabidiol suitable for treatment purposes.
There are a few concerns some people have about the legality of this cannabinoid but you'll find that in numerous countries like Canada, Jamaica, and all states in the United States, ingestion of cannabidiol for recreational useis legal. However, you need to make your own research and find out if this includes your location.
Health Conditions that Can be Treated with CBD
There are so many applications for CBD in the welfare of your pet's health. From surgery recovery, anxiety, relief of pain, this cannabidiol has so many applications.
Let us look at some of the health conditions that your pet might be suffering from that can be treated with cannabidiol.
Seizures
There is proof of CBD reducing the number of seizure episodes pets suffer, especially when used with other anti-seizure medications. We still don't fully understand how cannabidiol does this.
But while there are several theories floating around, there isn't any concrete scientific research that's been carried out to reveal how it works only behavioral studies.
Pain
If your pet just had an injury, it is only natural that they would be prone to recurring pain. CBD might be just what they need to feel better.
Studies suggest that it affects the way ECS and other nerves react to pain signals. For pets with inflammation issues, we also know a reduction in swelling is often synonymous with reduced pain.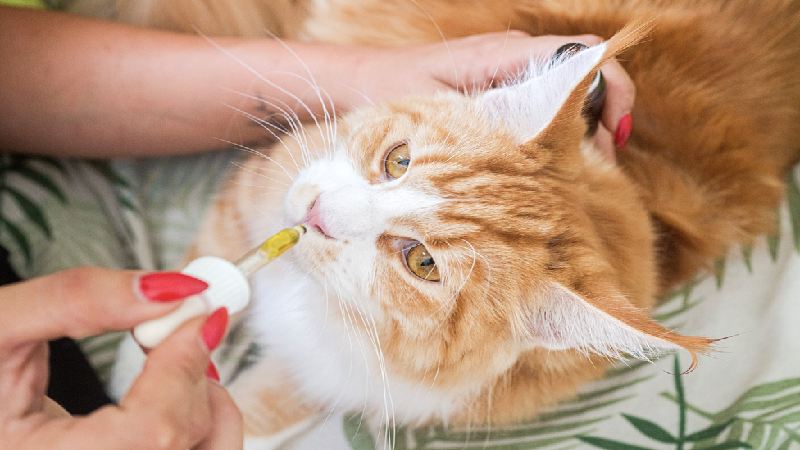 Anxiety
When we talk about this topic it is easy to think it affects only humans. The truth is anxiety affects our pets too and is responsible for certain troublesome behaviors. Perhaps due to previous abuse or lack of resolution of factors that makes them anxious.
Some symptoms of an anxious pet include flinching at sudden movements or unusual urination patterns. Research tells us CBD can alleviate anxious tendencies in our pets. Serotonin is the hormone responsible for "happy and relaxed" feelings and cannabidiol is able to activate them.
How Do I Know When CBD is Helping My Pet?
Unlike humans, our pets cannot tell us how they feel. The only way to know if CBD is working is by closely monitoring them. The best time to make your observation is after giving them a dose of cannabidiol.
Its effect isn't instant and can take up to 30 minutes to kick in. Also, not all animals are the same and differences in size, type, and age, might affect this result. You might want to consider speaking with your vet or visiting the nearest Holistapet office for consultation.
Popular CBD Products for Pets
CBD oil
To make CBD oil, the cannabis plant goes through special preparation processes that leave CBD extracts when done. It is often diluted with an oil base liquid for application. Coconut oil and hemp seed oil are the most common carrier oils used.
Pet owners especially love CBD oil because of how easy the application process is. Unlike pills that your pet might spit out, this can be dropped easily onto the tongue. It also has a faster absorption process than other forms of ingestion.
Cannabidiol oils often come in small bottles with a dropper for application. The dropper makes it super easy to measure the dosage accurately.
If your pet squirms when you try to apply the oil this can mean they find the taste unsatisfactory. A good alternative to this is to add it directly to their food.
CBD Treats
As the name implies, these are treats made with cannabidiol as the primary ingredient. These treats are especially useful for pets that dislike the raw, grassy taste of cannabidiol oil.
The downside to treats is that the dosage isn't easy to measure accurately. This is very different from the oil product where you can adjust it per drop. Visit https://pawsomeadvice.com/dog/cbd-dosage-for-dogs/ for more information about dosage for pets.
Conclusion
Your pet can now enjoy the healing properties of cannabidiol. It is also available in other product types ranging from gel and capsules, to topical products.
Please consult your veterinarian before you put your dog on a CBD medication. They are in the best position to give feedback concerning allergies and other factors