Jaiprakash Power Ventures Ltd-It is a Hydroelectric power generation company. Its nse symbol is jp power, and it engaged in the business of generation of thermal and hydro Power, cement grinding, and captive coal mining. It was founded in 1994. India is the headquarters of jp power Venture; Suren Jain (12 Jan 2020–11 Jan 2025) is the CEO of this company. It has many subsidiaries, one of them being Jaypee Karcham Hydro Corporation Limited; its parent organisation is known by the name Jaypee Group it's a private sector. Jaypee Group is a diversified infrastructure in India as Civil Engineering and Construction, Cement, Power, Real Estate & Expressways, and more over in Hospitality, Fertilizer, Health Care, Sports and Education (not-for-profit). As a group, it experienced benefits in the concept, design, development, construction and operation of hydroelectric power plants. As a Group, it can manage numerous aspects like power projects, from front-end engineering design to completion, operation and maintenance.
Annual Verified Emission Reduction (VERs). As a Group, it has the most valuable record of implementing Hydropower projects in the Country. It operates 300 MW Baspa–II HEP is accredited for 1 million VERs per annum, and 400 MW Vishnuprayag HEP, the World's largest Hydropower project in the private sector, is certified for 1.32 Mn.
 Bina Thermal Power plant – 500 MW
JPVL has acquired Project Profile (BPSCL) Bina Power Supply Company Limited of Aditya Birla Group. Bina Power Supply Company Limited was set up by the Aditya Birla Group in the state of Madhya Pradesh to set up a coal-fired Thermal Power Plant. The project was implemented in 2013.
Nigrie Thermal Power Plant – 2X660 MW
Project Profile Jaypee Nigrie Super Thermal Power Project comprising a 2 x 660 MW Super-critical Unit has been set up by JPVL at a site in Nigrie – Village, Tehsil – Deosar, District – Singrauli in Madhya Pradesh. The project was commissioned in February 2015.
National Stock Exchange-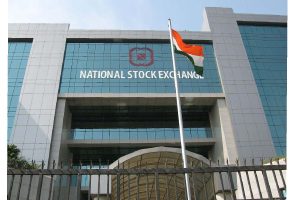 (NSE) is one of the leading stock exchanges in India. Established in 1992 as the s the first dematerialised electronic exchange institution in the Indian stock. It was recognised as a stock exchange in April 1993 by SEBI, and operations commenced in 1994 with the launch of the wholesale debt market. It is followed shortly after the launch of the cash market segment. NSE is also involved in strategic investments in complementary businesses. It includes mutual fund registry services, back-end exchange support services for its platforms, depository services, e-corporate governance and commodity, power and receivables exchanges. Between 1994 and 2016, it expanded and developed its business and product offerings. It has also expanded its business beyond traditional listing and trading services:
Block deals  has sessions with time limits -as it consists of two periods
first session: is called  Morning Block Deal Window: which operates between 08:45 AM to 09:00 AM.
Second session: it's called the Afternoon Block Deal Window: it works in the meantime from 02:05 PM to 2:20 PM.
% change is calculated concerning the close price of the stock market. Relative price is adjusted price on ex-date for Dividend, Bonus, Rights & Face Value Split.
Adjusted Price: The adjusted price is displayed when the security is undergoing a Corporate Action such as Dividend, Bonus, Rights or Face Value Split. On Corporate Action (Ex-date), the %change is calculated concerning the Adjusted Price.
For securities:It undergo call auction in special pre-open session in case of New/IPO Listings; Re-Listing; Corporate Action; Surveillance action etc., the % change is calculated concerning the equilibrium price determined in the session.
Know Before You Invest
Strengths -Effectively using its capital to generate Profit – RoCE improving in last 2 years
Weaknesses -Decline in Net Profit with falling Profit Margin (QoQ)
Opportunities -No Opportunity for this stock
Threats -No Threat for this stock
MARKET CAPITAL
₹ 4,132.64 Cr.
ENTERPRISE VALUE 
₹ 4,132.64 Cr.
NO.OF SHARES
685.35 Cr.
FACE VALUE
₹ 10
BOOK VALUE (TTM)
₹  10.24
JP Power's share price after 52 weeks high is Rs 9.45, and the 52-week low is  Rs 5.15.
Promoter; the shares of JP Power as on 31 Mar 2023 it categorised into two
DII (Domestic Institutional Investors )and
FII (Foreign Institutional Investors)
DII (Domestic Institutional Investors ) owns 24.0, 1.38 shares  and
FII  (Foreign Institutional Investors) owns  3.67 shares
Price and ratio  of jp power is
68 is PE Ratio
14 is Earning per share
01is the sales ratio
39 is the Book ratio
Financials
Quarterly financials
| | | |
| --- | --- | --- |
| (INR) | Dec 2022 | Y/Y |
| Revenue | 1.2TCr | 14.3% |
| Net income | -217.97Cr | 304.03% |
| Diluted EPS | – | – |
| Net profit margin | -18.15% | 338.19% |
REWARDS
Trading at 75.9% below our estimate of its fair value
RISK
Earnings do not cover interest payments
Large one-off items impacting financial results
Profit margins (1.6%) are lower than last year's (6.3%)P
peer Comparison with companies; SJVN, Neyveli Lignite, CESC, Reliance Infra, Reliance Power, Nava, PTC India, RattanIndia Power, ., Gujarat Industries Power Company Ltd., KEC International Ltd, JSW Energy Ltd, Adani Power Ltd.
More questions related to Jaiprakash's Power
1.How to Buy Jaiprakash Power Share?
You can easily buy Jaiprakash Power shares in Groww by creating a Demat account and getting the KYC documents verified online
2.What is the Share Price of Jp Power?
The share price of any stock is volatile and keeps changing throughout the day owing to different factors. Jaiprakash Power share price is ₹5.85 as of 16 Apr '23
3.Is JPPOWER debt free?
JP Power Ventures has a D/E ratio of 0.47 which means that the company has a low proportion of debt in its capital.
 4.Is JPPOWER suitable for the long term?
Is Jaiprakash Power Ventures Ltd a good quality company? The past ten year's financial track record analysis by Moneyworks4me indicates that Jaiprakash Power Ventures Ltd is an average-quality company
5.Is it worth investing in JPPOWER?
As on 13 Apr 2023, JPPOWER SHARE Price closed @ 6.05, and we RECOMMEND Selling for LONG-TERM with a Stoploss of 7.13 & Sell for SHORT-TERM with a Stoploss of 6.45. We also expect STOCK to react on the Following IMPORTANT LEVELS.
6.Is JPPOWER giving bonus shares?
Jaiprakash Power Ventures has not announced any bonus so far.
 7.What is the target of JPPOWER 2025?
JP Power Ltd Price Target Details
| | | |
| --- | --- | --- |
| Year | JP Power Ltd 1st Share price Targets (₹) | JP Power Ltd 2nd Share price Targets (₹) |
| 2025 | 21 | 22 |
| 2026 | 24 | 28 |
| 2027 | 35 | 39 |
| 2028 | 49 | 63 |
Large one-off items impacting financial results
Profit margins (1.6%) are lower than last year's (6.3%)