Sales teams are essential for the success of any business. These teams are responsible for bringing in revenue and expanding customer bases. However, sales teams often face inefficiencies. This leads to missed opportunities and lost revenue. There are ways to maximize the success of the team. For instance, you can implement an Enterprise Resource Planning (ERP) system. 
An ERP is a system that helps to organize, analyze, and manage data for businesses. There are valuable training resources like SAP certifications to help professionals master the use of ERP for various business processes. A comprehensive SAP certifications list can help you begin the learning journey. Using an ERP system can make your sales team more efficient and productive. Here is a look at some ways an ERP can benefit your sales team.
1. Better Sales Management
An ERP system can be a powerful tool for sales management. It enables businesses to streamline their sales processes. 
The system provides a unified platform to store, manage, and analyze sales data. With a view of all the data, sales teams can identify strategies to improve their performance. An ERP system can also help businesses quickly identify and address any problems. 
2. Streamlined Ordering Process
An ERP can help streamline your ordering process. The system provides a unified view of customer orders. So, teams can track order statuses and ensure customer orders are fulfilled on time. 
The ability to configure and action orders is vital for any sales process. An ERP system can do so in less time compared to conventional methods. 
ERP systems also provide features that can help improve the ordering process. They include order entry, invoicing, and payment processing. With these features, businesses can offer better customer service, boosting sales.
3. Increased Visibility into Customer Data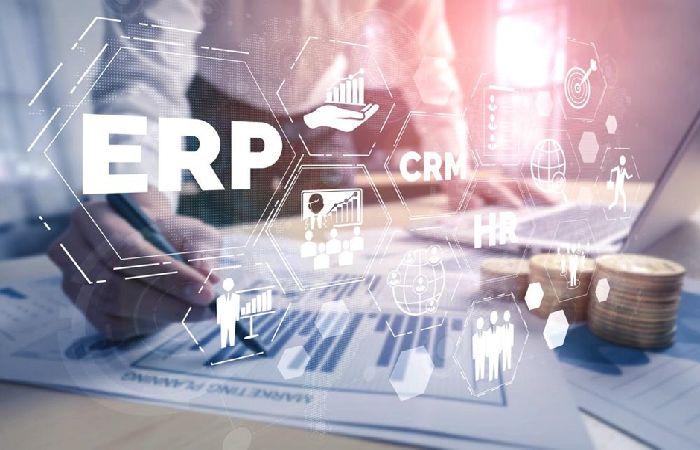 ERP systems consolidate customer information from multiple sources in one place. Customer data may come from departments like sales, marketing, customer service, and more.
ERP systems allow sales teams to quickly access current and past customer information. Teams can, therefore, get insights into customer behaviors, preferences, and buying patterns. With such data, your sales team can:
Identify trends

Anticipate customer needs

Develop personalized offers
With increased customer data visibility, teams can improve clients' experiences. Satisfied customers are more likely to make repeat purchases, which means your business earns more revenue. 
4. Prompt Outreach 
Being able to engage with prospects promptly is beneficial in sales. It allows a salesperson to connect with potential customers faster and more efficiently. Hence, it increases the chances of making a sale.
ERP systems can help your sales team improve the speed at which they can reach out to sales leads. Such speed can help your company be more effective. 
However, it's not only the speed that matters. Your team's ability to provide the correct information to the right client on time is also crucial. An ERP is a centralized system that puts essential information at your sales team's fingertips, making it easier for them to locate the resources they need to convert leads to buyers. 
5. Improved Customer Relations
An ERP system offers a centralized repository of customer data. Salespeople can access and use this information to build better relationships with customers. Your sales team can also leverage this data to personalize customer interactions.
The system can include tools for managing customer service requests and complaints. Thus, it helps sales and customer support teams resolve issues quickly and effectively. This can improve customer relations.
ERP also facilitates collaboration, helping teams coordinate their efforts. In doing so, teams can ensure that all customer interactions are effective.
6. Enhanced Collaboration
An ERP system can be a great tool to help sales teams collaborate. It provides one platform for sales teams to store and share data. 
That includes data on sales reports and customer service histories and requests. With a centralized platform, sales teams can stay connected. They can also stay updated on customer needs and sales opportunities. Better collaboration between individuals and departments like marketing, sales, and customer service can improve your company's success. 
ERP also helps to streamline communications in sales teams. This enables them to coordinate activities better and share information. 
7. Fewer Human Errors
Having your sales team process orders manually can lead to costly errors. Mistakes can also cause delays that harm the business and lead to customer dissatisfaction. An ERP system can automate the sales order process to reduce the likelihood of errors. Automation also lets your sales team focus more on converting leads to buyers rather than spending time searching for information or completing documentation. 
Wrap Up 
An ERP system can be a valuable asset to any sales team. It can streamline processes and help with business growth. Investing in an ERP system can be an investment in the future of your business.