Get Your Brand Noticed Online – It is more vital than ever for brands to stand out online in today's fast-paced digital environment. When everyone is shouting for attention, it's hard to stand out. Thankfully, there are plenty of clever strategies you can use to increase your company's profile in the busy internet landscape.
In this post, we'll cover six tested methods for enhancing your company's online presence. These methods, which range from analyzing and researching conversion rates to investing in advertising, are all aimed at bringing you closer to and more effectively connecting with your desired audience. By implementing them, you'll be able to make your online presence stronger, and your brand more visible.
Do Analytical Research on Conversion Rates
Before you start implementing any strategies to get your brand noticed online, it's crucial to conduct conversion research and analysis. This enables you to better understand your customers' wants, needs, and problems, helping you answer critical business questions.
So, to improve your conversion rates and get your brand noticed online, it's best to hire a professional agency and have them perform conversion research and analysis to help you better understand your target demographic and grow your customer base.
Let's say, for instance, that you run an online clothing shop specifically aimed at millennials. Researching and analyzing your conversion rates might help you determine that your target market cares most about buying eco-friendly, ethically produced garments. With this knowledge in hand, you can tailor your content and advertising to better appeal to consumers who value sustainability and ethical business practices.
Embrace the Power of Social Media
In today's digital world, social media is crucial for raising brand awareness. Social media platforms with large user bases, such as Facebook, Twitter, Instagram, and LinkedIn, are great places for initiating contact with prospective clients.
Getting the most out of social media requires you to build a solid presence on the platforms that your ideal customers use the most. Keeping your audience interested requires consistent updates, timely replies to comments and messages, and active participation.
Create Great Content
Creating great content is one of the most efficient methods to get your company recognized online. Content is valuable if it helps inform, entertain, and educate your intended readers. Creating interesting, high-quality content is a good way to start becoming an expert in your field and attracting new visitors. Website articles, videos, infographics, and ebooks are all great instances of high-quality information.
Optimize Your Website for SEO
Search engine optimization (SEO), is the method of enhancing a website's visibility on search engine results pages (SERPs). To boost your website's exposure and get more organic visitors, you need to optimize it for search engines. Using relevant keywords, providing high-quality content, and gaining backlinks from credible sources are all strategies that can help you optimize your website for SEO.
Assume you own a pet grooming company. By enhancing your website's search engine optimization, you may reach more people looking for pet grooming services in your region. Keywords like "dog grooming near me" and "cat grooming services" can be incorporated into your website's content and meta descriptions to increase traffic. To increase organic traffic to your website, you may also curate helpful content, such as blogs on pet grooming and wellness.
Work With Influencers
The use of influencers is a great way to get your brand noticed online. The term "influencer" refers to individuals who have created a significant social media presence and are therefore suited to influence the purchase choices of their audience.
According to research, 60% of marketers believe that influencer-generated content performs better and produces more interaction than sponsored postings. To expand your brand's reach, work with influential people and get access to their following. However, it's crucial to choose the ideal influencer for your company and to ensure that you build a genuine relationship with them.
Invest in Advertising
One other strategy to persuade people to notice your company online is to invest in advertising. Advertising on Google, Facebook, and Instagram can be shown just to those who fit a certain demographic profile.
Paid advertising helps your message reach more potential clients and raises awareness of your product or service. But, to enhance their efficacy, marketers must guarantee that their messages are interesting and relevant to their intended audienc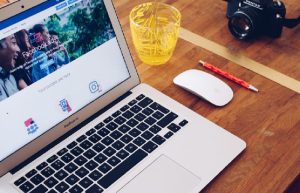 Photo by Will Francis on Unsplash
Final Thoughts
Strategies and approaches are needed to increase brand awareness online. You may boost your brand's exposure and attract more consumers by doing conversion research and analysis, using social media, providing great content, optimizing your website for SEO, partnering with influencers, and using paid advertising. To remain ahead of the competition, it is crucial to choose the methods that prove most effective for your company and to constantly improve your processes.