5 Tactics to Increase Your Business's Efficiency-Running a business is a difficult task. Keeping up with the demands of your thriving business can be challenging, which is why focusing on increasing efficiency is critical if you want to build a sustainable and successful business.
Working smarter and doing more with less is what efficiency is all about. You need to develop strategies that will help you increase your production efficiency so you can continue to run your business smoothly.
Business efficiency means getting the most out of your resources by maximizing your outputs from your inputs. If you haven't considered how to improve business efficiency, you may be missing opportunities to reduce the amount of time you spend on a particular task. This saves you money and manpower in the short and long term.
Working smart and increasing output are tried-and-true methods for defeating the competition and increasing profit margins. However, this only scratches the surface of what it takes to run a successful business.
Here are five well-proven tactics to help you increase your business's efficiency.
Be inventive
To improve your business's efficiency, you need to bring bright and fresh ideas to the table. Work together with your employees and think of ideas on how to achieve continuous business improvement. This will assist you in developing a strategy for implementing quality changes to increase efficiency in your business. Be aware that this should be an ongoing process. This is something you should review and update on a regular basis to ensure your business is operating at peak efficiency.
You need to delve deeper into the efficiencies and strategies you can create for effectively implementing them. For example, create an effective sell sheet where you add essential information about your business, service, or product you offer. The sell sheet is a one-page advertisement where you showcase your business and the idea behind your product. It should have a unique design, important product information, and an effective headline. This way, you will attract the attention of your prospective customers. It is a well-proven strategy that will intrigue your potential clients.
Image source: Giga Book
Use the proper tools
It may seem obvious, but you'd be surprised how many businesses fail to provide their employees with the necessary skills and tools. Whether you're considering project management software or new accounting training, the one-time fee or yearly subscription cost you may pay for a tool will often pay for itself tenfold in terms of getting the job done faster and more accurately.
You can use workflow automation tools in your business to track statistics and generate reports. Additionally, sending and receiving emails does not have to be a stressful experience. As technology advances, incorporating email automation tools will allow you to better arrange your emails, maintain contact with customers, and close deals quicker.Cloud-based tools are also common among businesses. As Jonas Østergaard Pedersen, International SEM Manager at EcoOnzline mentioned, "Cloud-based platforms are very efficient for day-to-day business management, especially if your business is growing quickly."
Strive for constant improvement
Business efficiency necessitates a particular mindset. It is one of constant improvement and the realization that there is always more to learn. It's a personal trait, but it's also something you can incorporate into your company's culture. It will encourage risk-taking and innovation in your employees, both of which are essential for increasing efficiency.
Image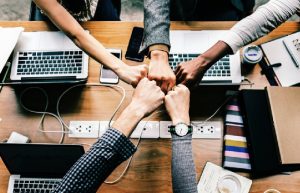 source: Company Bug
Create trust
Building trust in the workplace strengthens the bonds between you and your employees, as well as between colleagues. Trusting people to do their jobs without hovering over them contributes to an environment in which they feel valued and free to do their best work. In return, if you are honest and transparent with your employees, they are more likely to reciprocate by providing valuable insight on tasks, products, services, and so on.
Improve your company's website
Whatever type of business you own, an engaging website is essential. There, you must include important information about your company, such as the name, address, contact email, and phone number. Nevertheless, you need more than this. If you want to attract more visitors to your website, you must create powerful content.
Consider the style and topics in which your target audience is most interested. Your website should be focused on resolving any issues they may be experiencing. Consider how you search for solutions to your own problems or questions on the internet and use that as a model. If you want to create an effective website, make sure you add high-quality content.
Final thoughts
Having your own business is not enough if you do not intend to grow it. Try to use the most recent technologies that the business world has to offer. To increase the efficiency and productivity of your brand, you must continue to invest in appropriate tools, improve your company's online presence, and create innovative marketing campaigns.